Personalized.
Powerful.
Reliable.
Efficient.
PRO Swim Spas
---
PRO Swim Spas
A swimming pool, swimming bath, wading pool, or paddling pool is a container filled with water to enable swimming or other leisure activities. Pools can be sunk into the ground or built above ground (as a freestanding construction or as part of a building or other larger structure). In-ground pools are most commonly constructed from materials such as concrete, natural stone, metal, plastic or fiberglass, and can be of a custom size and shape or built to a standardised size.
Spa pools are pools filled with hot water, used for relaxation or hydrotherapy, and are common in homes, hotels, clubs and massage parlors. Special swimming pools are also used for diving and other water sports, as well as for the training of lifeguards and athletes.
From spa industrial fashion trend, the freestanding swimming pool with hydro therapy, made with acrylic and fiberglass is more and more popular, easy for customers to get and install, it's called swim spa. This type swim spa are mostly installed with powerful whirlpool pump to drive swim jet to produce strong water flow against swimmer, offer swimming exercise. Due to the water flow out of swim jets, it is still be influenced by the resistance from jet and hose, jet type swim spa may be enough for common home use, but may not be enough powerful for an athletes or other strong swimmer.
Today we, J&J, would like to present our PRO series of swim spas in the market, to meet the demand of athletes and professional swimmer fully. The Pro swim spa is equipped with 2.8Kw to 5.6Kw axial-flow pump, with adjustable nine speeds. The axial-flow pump, or AFP, is a type of pump that essentially consists of a propeller (an axial impeller) in the swim spa. The propeller can be driven directly by a sealed variable frequency electric motor mounted to a circle hydroecium to produce powerful water flow, to offer endless swimming sport in a limited space. How powerful it is? From our testing, a 2.8Kw PRO swim spa runs at 5-6 speeds is enough for an adult woman, and 6-7 speed is enough for an adult man, and the 8-9 speeds are leaving for challengers.
Spillway Equipment

In order to ensure the normal circulation of the water of the whole pool to flow, and the flow water in the pool can be calm with potency dimension, we according to size of the swim pool deploy different quantity of backwater port, and then install the return grid around the pool, let the water more steady, at the same time, let the swimmers swim forward all the time as if they are swimming in the sea without the dangerous of vortex or surge.
Can choose

JNJ Spas provides three types of swim spas installation for the actual needs of various users. Stand (rounded corner), Half-embed (right-angle), and All-embed (right-angle). In order to facilitate the installation of All-embed and Half-embed, JNJ Spas also provided the right-angle swim spas version specially.
Water Recovery Equipment

The unique aftermath can weaken training strength rapidly with the water calm.
According to the requirements of different power and current speeds,The training also deplolies water recovery apparatus to assure the using of water enough,which it made the water gentle and stable.Satisfied with the level demands from swim beginner to Olympic swimmers.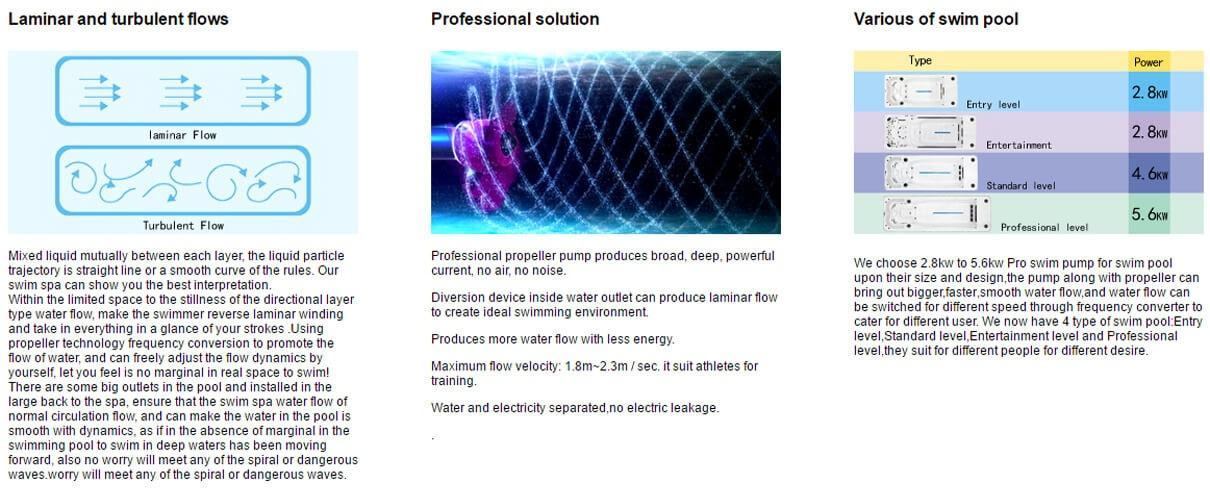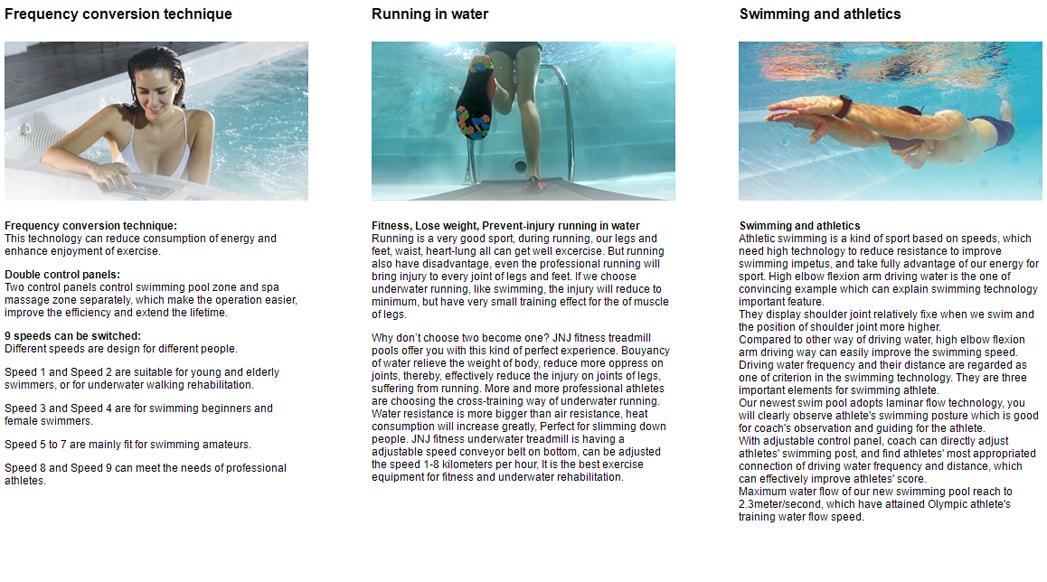 Focus on us

Wechat applet
---
Copyright ©2022Guangzhou J&J Sanitary Ware Co., Ltd. All Rights Reserved. 粤ICP备19060374号